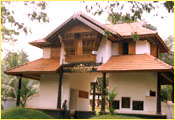 Vyloppilli Samskriti Bhavan
(MPCC - Multi Purpose Cultural Complex) is an institution under Department of Culture, Government of Kerala, built with the support of Government of India as a research, documentation and performance center of traditional and classical cultural traditions.
It is one of the few institutions of its kind in India and is UNESCO approved center for cultural heritage preservation. MPCC works under a committee chaired by the Minister of Culture, Government of Kerala and consists of scholars and eminent personalities.
MPCC, situated at Nalanda Hills is built over several blocks.

Koothambalam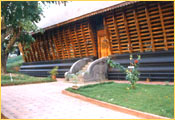 The cultural complex is proud of its 'Koothambalam' that reminds model of the old
Natya-griham at Vadakkumnatha Temple at Thrissur. Koothambalams or traditional theatres constructed according to the standards set down in Bharata's Natya Sastra, the ancient treatise on Classical Indian drama are found in many old temples of Kerala.

source:
The official website of Department of culture : Government of Kerala: India
(http://www.keralaculture.org/)